Services | Company for Packaging, Printing in NYC - Contact Us Today - Proof7
Proof7 brings years of experience in the inimitable environment of NYC to the masses with a company that provides unmatched services and the highest quality products and production. Success in the printing industry has led to relationships with clients ranging from international modeling agencies, leading design firms, corporations, real estate firms, galleries, fashion houses, creative agencies to NYC based artists and designers.
Offset Printing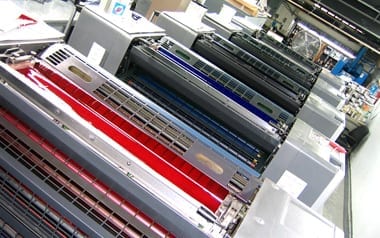 About This Service
There are two worlds of printing, Offset & Digital, Proof7 offers both. Offset printing is commonly considered traditional printing (large presses, prepress). It is a printing technique where the inked image is transferred (or "offset") from a plate to a rubber blanket, then to the printing surface. Offset printing offers consistent high image quality by producing sharp and clean images and type. Offset printing is ideal for large run commercial work ranging from fine art catalogues to huge runs of Broadway mailers.
Digital Printing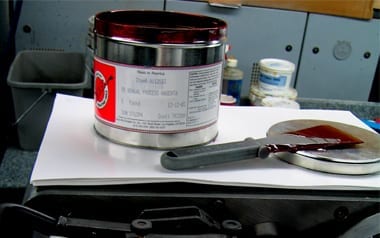 About This Service
Our digital printers are run with inks allowing the highest digital quality possible. Digital is ideal for small runs, customization, and tight budgets. With this technique, every print can be different because printing plates are not required, unlike traditional methods. Digital printing is environmentally friendly, less chemicals and paper are wasted in this process.
Custom Publishing
About This Service
Experience provided us with a keen understanding of the boundaries of print and how by carefully working within these boundaries incredible books can be built.  Turning the fiscally and logistically impossible to a reality is the best way to describe our Custom Publishing division.  We work first hand with clients from conception, to design, to production to create stunning pieces.  Let us build your vision!
Interactive Digital Displays
About This Service
With the recent decrease in monitor and projection pricing and influx of technology, the market has become cost effective enough to make digital signage the next media outlet for the in and out of store experience. Proof7 offers an opportunity for companies to create a new innovative forum to interact with customers, delivering compelling content at the right location at the right time for maximum impact. From creative direction all the way to hardware, software, and installation, we are a one-stop shop for any digital signage project.
Printing Equipment

Prepress
(3) Rampage Ripping System v10.5
(3) Creo Trendsetter
Direct-to-plate
Screen Plate Rite 8000 II Platesetter
(2) Fuji Luxel Final Proof 5600
32″x21″ Digital Halftone Proofer
(4) HP DesignJet 1050c Plus
36″ Large Format Inkjet Digital Blueprint Proofer
(2) Epson Stylus Pro 10600 & (2) 9880
44″ Large Format Proofer
Epson 4750 Color Scanner
Web Offset
Harris M-100
17.75×26.5″ 6-color hear set w/ Inline Finsishing
KBA 213
22.75″x38″ 4-color hear set w/ coater and Inline Folding
Miracle 3500 Web
22.74″x38″ 4-color cold set w/ Roll Strands, Inline Folding and Double-Web Capabilities
Diddle ML Webs
17″ 5-color cold set web, 24″ cutoff and running perf
17″ 4-color cold set web, 22″ cutoff
Sheetfed Offset
(4) Heidelberg GTO
20″ 5-Color presses
Heidelberg Speedmaster SM 52
20″ 5-Color with Coater
Heidelberg Speedmaster SM 52
20″ 6-Color 4/2 Perfector with Coater
Heidelberg MO
25″ 5-Color with Coater
Heidelberg Speedmaster CD 74
29″ -Color with Coater, up to 34-point board
Heidelberg Speedmaster XL 105
41″ 5-Color with Coater (29″x41″)
KBA Rapida 105
41″ 8- Color 4/4 Perfector with Coater (29″x41″)
Capability of up to 30-point board
Digital Printing
HP Indigo Press 5500
Kodak Nex Press 53000
with UV Varnish, near-line Finishing with photo imaging
Kodak NexPress 2500
wih UV Varnish, near-line Finishing
Kodak DigiMAster EX150 black/white printer
HP Dye Ink Designjet 5500
60″ 2400 dpi x2400 dpi
Roland Soljet Inkjet
54″ 1440 dpi x 1440 dpi, with kiss-cut capabilties
Variable Data (personalization) with Fusion Pro
JETi 3150 UV Curable Flatbed Inkjet Printer
5′ x 10′ directly on and substrate up to 2 inches think
Bindery & Finishing
(4) Saddle Stitchers
Capabilities from one to eight pockets plus cover feeders with two-deep attachements
(2) Duplo 5000 booklet-maker
20-Station, 80-page saddle-stitcher with face trim and side-stitch capabilties
(16) Folders
Capabilities from 4 to 8 plates; gate-folding
(6) Mini Folder
Capabilities of folding down to 7/8″
(8) Cutters
Capabilities up to 53″
(4) Kluge and Letterpress Die-Cutting
Automatic and hand-fed capabilities up to 40″
Silk-Screening and UV Coating
Any size sheet up to 40″x50″
Embossing & Foil Stamping
Any Size up to 19″ x 20″
Film Lamination
Capabilities up to 23″ x 35″ sheet, gloss, and dull
Hand Perfect Binding
Automatic shrink-wrapping & plastic banding
Spot fugitive gluing; Drilling